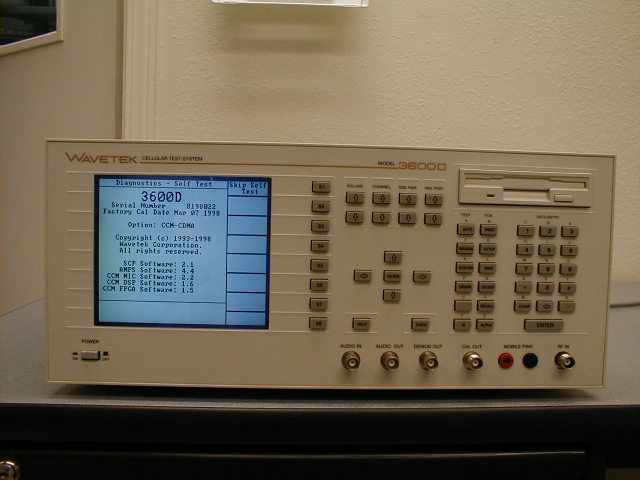 JUST RECEIVED [4] OF THESE UNITS, MAKES A VERY NICE LEVEL 1/2 CDMA PHONE TEST SET, THIS UNIT WILL
TEST 800MHZ AMPS AND CDMA PHONES, CAN BE UPGRADED TO PCS-1900 IF CUSTOMER REQUIRES OR LOOK
AT MY LIST I HAVE A 3600D WITH FEX/CDMA ALSO FOR SALE, THESE UNITS HAVE PRINTER PORTS, SERIAL
PORTS. THESE UNITS HAVE PHONE TEST SOFTWARE BUILT INTO THE UNITS, NO AUTO TEST SOFTWARE
TO PURCHASE, WILL DO A CDMA PHONE TEST IN 1-2 MINUTES. NEW COST OVER $23,000.00 EACH.
ASKING--$6,500.00-3600D WITH CDMA
ASKING--$3,500.00-3600D ANALOG AMPS/NAMPS TEST
120 DAY WARRANTY AND A 5 DAY RIGHT OF REFUSAL, MANUAL, POWER CORD, ANT
IF INTERESTED GIVE ME A CALL AT-1-800-251-8911 ASK FOR PAUL OR EMAIL-- CLICK HERE